In Memory
Dorothy T. Lappan (Schmidt) - Class Of 1950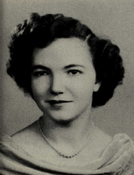 Obituary
Dorothy T. Lappan Schmidt
Bensalem - Dorothy T. Lappan Schmidt passed away peacefully on the evening of Wednesday, March 30, 2022 at Brookdale Care Center. She was 90 years old.
Dorothy was the beloved wife of the late Richard J. Schmidt; the couple shared 49 years together.
Born in Bensalem, PA to Vincent and Marguerite Weidemer, she was a lifelong resident of Bensalem. She was the mother-in-law of the late William Scheurer and daughter-in-law Marlene Schmidt. Her brother, John "Pete" Lappan, and five sisters, Ginger Stallone, Judith McMillin, Anita Carlsen, Norma Schock and Marguerite Parmer, also precede her in death.
Loved by her family and respected by those who knew here, she was employed by the Bensalem School District for over 35 years where she worked as a dedicated bus-aide.
Dorothy will be greatly missed by her sons, Richard J Schmidt and his former wife Linda, and Christopher J. Schmidt; her daughters, Linda L. Scheurer and Theresa J. and Ralph Heil. She is also survived by her eight grandchildren, Richard J III and Anne Schmidt, Andrea G and Sean Richards, William Jr. and Amanda Scheurer, Michael and Jessca Schmidt, Tyler Heil, Paula M. Schmidt, Corey Heil and Hunter Schmidt; and 6 great grandchildren, Evelyn Joy, Amelia Anne and Eli Richards; Ava Michele and Maverick Liam Scheurer and Connor Huck Schmidt. She is also survived by two sisters, Linda Walker and Patricia Liberty; and many loving nieces and nephews.
Dorothy was known for her generous heart and spirit of kindness. In lieu of funeral services, her family asks that you perform an act of kindness for someone in need in Dorothy's memory.
Thank you to the staff at the Memory Care Unit of Brookdale-Northampton and Angelic Health and Hospice Care for making Dorothy's end of life a peaceful experience.
Posted online on April 01, 2022
Published in Bucks County Courier Times