In Memory
Earl L. Santee - Class Of 1960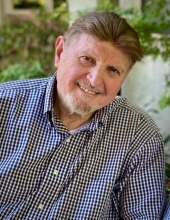 Earl Lester Santee, Jr., age 80, passed away at his home in Folsom, CA on August 22, 2022. Born on May 21, 1942, in Philadelphia, PA to the late Earl Lester Santee, Sr., a brave and honored WWII Merchant Marine, and the late Mildred Anna Baum (nee Myers), he is survived by his loving wife, Aileen, and children Chris, Elaine, and Greg, son-in-law Alex, and daughter-in-law Ebony. He is also survived by brother Robert Santee (Mariann), sisters Kim Bockman (Bob), Kathy Borensen, and Darlene Smiley (Cliff), stepsisters Jackie Darling and Joan Darling, and numerous nieces and nephews. He was preceded in death by his brother Ronald Santee and stepbrother Herman Darling.

Earl met the love of his life, Aileen, in the 10th grade. He wooed her the following year with his clean-cut good looks, kind personality, persistence, and rides in his Studebaker. After graduating High School, he enlisted in the US Air Force and quickly secured Aileen's hand in a loving and supportive marriage that would last more than 60 years until his death.

During his 24-year career in the Air Force he completed a B.S. degree in Electrical Engineering, an M.A. degree in Management, and rose from enlisted to the rank of Captain, receiving many honors and recognitions along the way. His service required family moves to Delaware, Colorado, Germany, Oklahoma, Ohio, and finally to the Sacramento, CA area in 1978 where the family put down roots. After retiring from the Air Force in 1985, Earl continued working in the engineering field for a private defense contractor, the Federal Government, and the State of California until retiring in 2005.

Earl was gifted with a strong and curious intellect, gentle spirit, passion for service to others, and need to constantly tinker and work with his hands and mind. While in Ohio in the 1970s, he was a leader in his sons' Cub and Boy Scout organizations. Additionally, he was a member of the 9th Virginia Regiment that reenacted Revolutionary War battles and marched in the July 4, 1976 parade in Philadelphia as part of our Nation's Bicentennial Celebration. He loved sailing, woodworking, teaching himself the piano, guitar, and French, collecting model trains, and for the past 25 years sharing quality time with family and friends at his mountain cabin in Arnold, CA.

Throughout his adult life, Earl maintained an unwavering commitment to his Faith and church. For the past 38 years, he was an active member of St. John the Baptist Catholic Church in Folsom where he taught bible study and sang in the choir.

A tribute to Earl would not be complete without remembering the love and care he showered on the family's numerous pet dogs and cats over the years and his constant rule to never pass on dessert. He will be remembered for his kindness, strong work ethic, good nature, and devotion to his family, Faith, and community.

Family and friends are invited to a viewing at Miller Funeral Home located at 507 Scott Street in Folsom on Wednesday, August 31, 2022, from 4pm-7pm. Family and friends are also invited to a Mass at St. John the Baptist Catholic Church located at 307 Montrose Drive in Folsom on Saturday, September 3, 2022, at 10:30am with a reception immediately following.