In Memory
Florence M. Myers (Davis) - Class Of 1943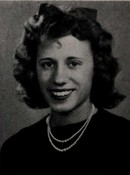 Florence M Davis
Tuesday, July 28th, 1925 - Monday, February 6th, 2023
Obituary
Florence Davis, 97 years old, entered God's eternal care at The Gardens at Gettysburg on February 6, 2023. She was the widow of Leighton Davis who died December 3, 1979.

She was born in Philadelphia to Elmer and Florence (Rash) Myers on July 28, 1925. Florence lived in Croydon, Pa for 58 years and for 7 years she lived in Bensalem, PA on land where her parents used to own a farm. In August of 2016 she moved to Gettysburg, PA to live with her daughter and son-in-law.

Florence had worked as a teacher aide in the Bensalem School District, was a Girl Scout leader, and President of the Lower Bucks County Hospital Auxiliary. She was a previous member of Eddington United Presbyterian Church, and the Cornwells United Methodist Church. She was a current member of the Gettysburg United Methodist Church.

She enjoyed being with her family very much. She also liked watching British comedies and going out to eat for no reason at all. She liked playing Bingo (with two cards) at her nursing home with her two best friends, Rita and Anna.

She had 10 grandchildren, 15 great-grandchildren, and many nieces and nephews.

Surviving are her daughters, Patricia (Paul) Griffith, of Gettysburg, PA; Cheryl (Bill) Fitch of Kerrville, TX; Nancy (Guiles) Giuliani of Bethel Park, PA; and a son Kenneth (Betty) Davis of Newportville, PA.

She was predeceased in death by her parents, brothers and their wives Elmer and Lilly Myers, and Bill and Marcella Myers, and brother-in-law and sister-in-law Joe and Clara Labbe.

A viewing will be held on Friday February 10, 2023, between 10:00 and 11:00 AM at Tomlinson Funeral Home, 2207 Bristol Pike, Bensalem, PA 19020 followed by her service at 11:00 AM. Interment will be at the William Penn Cemetery, Somerton, PA.

The family wishes to thank the nurses on Hallway #4 at the Gardens of Gettysburg for their care, love, and skills while taking care of Mom. Also, Donna Thorpe, Head of Activities, was a good friend.