In Memory
Charlotte L. Clift Osterman (Calogero) - Class Of 1944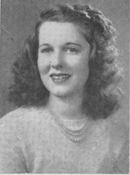 Obituary
Charlotte L. Calogero age 95 passed away Monday, September 12,2022 at her home.
She was born in Philadelphia on May 28, 1927 to the late Charles and Louise Osterman and was a longtime resident of Bensalem. Charlotte was a member of the Church of Redeemer in Andalusia for 85 years; she was on the Vestry Committee and the Altar Guild. She had a love for animals especially dogs and she was very good with plants and flowers.
She was preceded in death by her husbands Sam Clift and Rick Calogero, her daughter Susan Calogero and her daughter in law Sharon. Charlotte is survived by her two sons Jon Clift (Brenda) and Richard Clift. She is also survived by several grandchildren and great-grandchildren.
Services will be held at Church of Redeemer at a later date.