In Memory
Thomas Ramsay Principal 1967-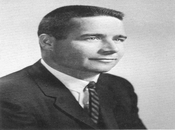 Thomas H. Ramsay
Thomas H. Ramsay, age 88, passed away peacefully in his home. Tom was the son of Thomas and Lela Ramsay and was born and raised in Malvern, PA. He graduated from West Chester State Teacher's College and earned his master's degree from and worked towards his PHD at Temple University. While at West Chester Tom was captain of the golf team, a sport that was a lifelong pastime he shared with his friends and family.
Tom was a Health and Phys. Ed. teacher in schools in Eastern Pennsylvania where he also coached golf and other sports before becoming a high school administrator in the Bensalem school district. In 1969 he accepted a position as the principal of Claymont High School, and moved his family to Wilmington, DE to the home he would live in for the next 53 years. Over the course of his career, Tom was very active in all facets of the schools where he worked and was a presence at all sporting events, concerts, PTA and school board meetings, dances, and other activities. In addition to Claymont, he spent many years at Concord High School and Mount Pleasant Junior High School. His career in education led to his involvement with the Middle States Commission on Higher Education with whom he traveled to England, Germany, Italy, Switzerland, and Puerto Rico to evaluate American schools in those countries to give them their Middle States Accreditation. While working with MSCHE he also evaluated schools in the United States. After retiring from full time administrative responsibilities in 1991, Tom continued to contribute to the school board by participating in various committees designed to enhance the educational programs in Delaware public schools. He served as an expulsion hearing officer for the State of Delaware and worked to support the State High School swimming tournament hosted by the University of Delaware each year.
Outside of the school system, Tom was very devoted to the Claymont Lions Club with whom he participated in their fund-raising activities to benefit the community. While with the Lions, he was an active participant in their semiannual pancake breakfasts and their scholarship committee. He served as chair of their annual Christmas Tree Sale and wrote the monthly newsletter for many years.
In his free time, Tom enjoyed sports of all kinds and continued to play golf into his early eighties. He was very proud of his grandchildren and received much pleasure from traveling to their various sporting events during their high school and college careers. Tom had a second home in Avalon, NJ, where he spent many happy afternoons enjoying a good book while soaking up the sun.
Tom was predeceased by Liz, his wife of 65 years, with whom he raised four children James (deceased), Susan Judge (Scott), Karen Krauland (John), and Stephen (Kathy). Tom had four grandchildren, Ashley Judge (Mariana), Bobby Judge (Becky), Lee Sifford, and Eric Sifford (deceased). Tom had one great grandson, Ryder Judge, and was looking forward to welcoming his second great grandson in March of this year. Tom was also predeceased by his brother, Richard (Lillian).
A visitation will be held on Saturday, March 5, 2022 from 10-11 am at Chandler Funeral Home, 2506 Concord Pike, Wilmington, DE 19803, followed by a memorial service at 11 am. Burial will follow at Lombardy Cemetery in Wilmington, DE.
In lieu of flowers, contributions may be made in his honor to the Claymont Lions Club,11 Bellemeade Place, Wilmington, DE 19810. For online condolences, please visit Chandlerfuneralhome.com