In Memory
Ryan R. Greenwald - Class Of 1997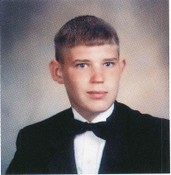 Ryan R. Greenwald
December 31, 1979 ~ September 30, 2023 (age 43)
Obituary
Ryan Roy Greenwald, 43, longtime resident of Bucks County, PA, passed away on September 30, 2023. He was born on December 31, 1979, in Philadelphia, PA. Ryan was a loving father to his five beautiful children, Mia, Jacalyn, Madelyn, Jonothan, and Anastasia, who meant the world to him. He was the son of the late Ralph Greenwald (Rose) and Patricia Kitchener. Ryan was a beloved brother to Richard, Nicole (Tom), Keith (Suzy), Rachel, Samantha, and Wade. He had numerous nieces and nephews who adored him.
Ryan was one of a kind. He had a contagious smile and a playful personality that could brighten anyone's day. He was known for his goofball nature and had a remarkable ability to make friends wherever he went. Ryan was a skilled tradesman, particularly excelling as a plumber. His dedication and talent were admired by all who knew him.
In his free time, Ryan enjoyed being outdoors. He loved camping, fishing, and taking nature walks, finding solace and joy in the beauty of the natural world. Ryan had a deep appreciation for life and embraced every moment with enthusiasm.
Despite his untimely passing, Ryan left a lasting legacy as a hero. Through organ donation, he saved three lives, selflessly giving others a second chance. His act of kindness and compassion will never be forgotten.
Ryan Roy Greenwald will be deeply missed by his children, family, and numerous friends whose lives he touched. May his memory live on in our hearts, and may we strive to carry on his spirit of love, laughter, and generosity.
Relatives and friends may greet Ryan's family from 10:00am. until the start of his Funeral Mass at 11:00 am. on Thursday October 5, 2023 at St. Robert Bellarmine Catholic Church, 856 Euclid Ave. Warrington, PA 18976. Interment will be private.