In Memory
David Berger - Class Of 2009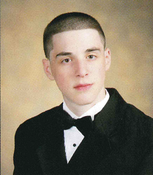 David Michael Berger Sr.
February 2, 2023
Obituary
David M. Berger passed away unexpectedly at the young age of 32 years old.
David was born in Philadelphia, Pennsylvania, on August 22, 1990, to Laura Gable. He graduated from Bensalem High School in 2009 and was a Bensalem resident his entire life. David was a family man who enjoyed spending time with his two beautiful girls and fiancé. He was also an uncle to 12 nieces and nephews, whom he loved dearly. A few of his favorite pastimes include, playing football with the kids, writing, and playing Barbies with his daughters.
David was preceded in death by his firstborn son, David Jr., and by his grandfather, John Gable. He is survived by his fiancée Andrea, his children Dallis and Hailie, his mother Laura, his sisters Heather, Jennifer, and Lauren, his grandmother Barbara, his aunt Barbie and uncle Chris and all of his nieces and nephews.
Services and interment will be private.