In Memory
Margaret A. Le Compte (Tuttle) - Class Of 1939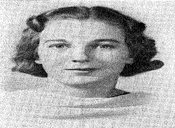 Margaret Tuttle
KITTY HAWK, NC
Margaret LeCompte Tuttle, died, Thursday August 22, 2013, in Colony Ridge Nursing Home in Nags Head. Mrs. Tuttle was a former resident of Kitty Hawk. She was predeceased by her parents, Dr. William Cooper LeCompte and wife, Elizabeth Watson LeCompte and siblings Elizabeth, Ellwood and Cooper.
Margaret was born May 24, 1919, and grew up in the Bristol, Pennsylvania area. Her husband was an engineer for Northrop-Grumman and they followed his employment as residents of Indiana, Connecticut, Maryland and New York. After retirement and cold winters on Long Island, New York, they moved to Kitty Hawk in 1974.
Margaret had a great love of animals and the outdoors, and spent many happy hours with her pet dogs, as well as the other dogs in the neighborhood.
She is survived by a niece, Mary Arena, of Ewing, NJ, her husbands nieces, Nancy and Linda Tuttle, of Long Island, New York, by good friends and neighbors, and her guardian, Geneva Perry.
A memorial service will be held at a later date in the Remsenburg Presbyterian Church, Moriches, New York.