In Memory
Harvey A. Crowthers - Class Of 1954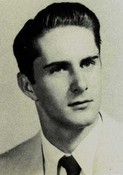 Harvey Allen Crowthers, 87, passed away peacefully on the morning of April 14, 2023, at Floral Creek in Yardley PA, surrounded by his family.
Born May 14, 1935 in Abington and raised in Andalusia, he lived most of his life in Levittown with his beloved wife Joan Crowthers where they raised their family. Harvey and Joan were married for 62 years before her death on November 12, 2017.
Harvey will be greatly missed by his three children, Michael Crowthers and his wife Lisa of Allentown, Donna Voorhees and her husband Earl of Yardley and Beth Dierolf and her husband David of Feasterville. Harvey, known as Pop, loved and was very proud of his grandchildren Jenn, Brett, Stefanie, Kim, Kelli, Caitlyn, Madison and Jessica. He has 9 great grandchildren with one on the way.
Harvey was a lifelong resident of Bucks County and was a 1954 graduate of Bensalem High School, where he was a standout athlete. He was known for his athleticism in Football, Basketball and especially Baseball. He served as a class officer and was voted best dressed by his classmates. It was in the halls of Bensalem High School where Harvey met his High School sweetheart Joan Arrow. They were later married in 1955.
Harvey proudly served in the United States Army stationed in Fort Knox Kentucky. Upon his discharge, He spent the next 35 years at Rohm and Haas and eventually retired as machine shop supervisor.
Retirement allowed him to pursue his passions for playing golf as well as his hobby of woodworking. He was forever creating pieces for his family and specifically for Joan to paint. They were a crafting duo.
He was fortunate to own a home in Palm Coast FL, where he and Joan spent many winters. There they created many fond memories for their children and grandchildren when they came to visit. Family summer vacations were spent for many years in The Outer Banks. Harvey loved sitting on the beach, chit chatting, and watching the waves.
Harvey was a passionate Philadelphia Sports Fan. He never missed an Eagles or Phillies game. One of his favorite things to do was to sit on his patio on a warm summer night listening to the Phillies and Harry K.
Harvey will be honored by his family in a private memorial service.