In Memory
Louis A. Bencardino - Class Of 1955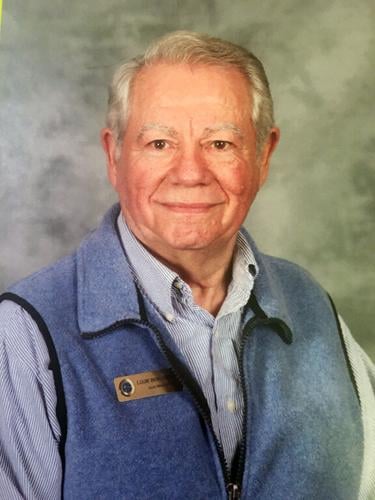 Louis Anthony Bencardino Jr. 1937-2022
Louis Anthony Bencardino Jr. 85, is now dancing with the angels, and anyone who had the pleasure of attending Seward's annual Policeman's Ball, will have witnessed up close and personal how much Louie loved to dance.
You may have called him Chief, Boss, Lou, Louie, Papa Lou, Dad, Grandpa, or friend, and no matter the day or time, or even the town, if you walked out and about with Lou Bencardino, someone would stop you with a hello and a smile because Lou has met and worked with what seemed at times like everyone in Alaska.
Lou first arrived in Alaska from Philly in the late '50s, serving in law enforcement in Fairbanks, Glennallen, Nome, and Palmer. After training and certification with the Alaska State Troopers, Lou became Chief of Police in Palmer. At 23, he was one of the youngest chiefs of police in the U.S. You can watch Louie recount funny stories from this time in the Mr. White Keys DVD "Alaska the First 10,000 years."
Lou became Seward's Chief of Police in 1975. He went through training and certification from the FBI Academy and dedicated the next 43 years to protecting and helping build Seward into the vibrant town it is today. With tireless energy and devotion to his community, he woke early every day excited to get started; as a result, his accomplishments were many and it is difficult to condense a "life well lived" into a few words or paragraphs.
As well as being Chief, Lou went to Juneau to lobby for the Nash Road extension and talked about sleeping on Senator Jay Kurttula's couch while he was there. The road extension led to the development of Seward's Ship Lift, the Spring Creek Correctional Facility, and the Marine Industrial Center. Other endeavors, but not all, include The Alaska SeaLife Center and the new hospital.
Following his retirement as Seward's Chief of Police in 1991, Lou served on the City Council, Port and Commerce Advisory Board, and was elected mayor of Seward in 1995. He also served on the Statewide AVTEC Advisory Board, and was a member of Rotary, the American Legion, Elks, Pioneers of Alaska, and Lions Club. In 2011, Lou was awarded Person of the Year by the Seward Chamber of Commerce, and in 2012 the Twenty-Seventh Alaska State Legislature approved a Legislative Honor in his name.
For fun he coached softball, including the Swinging Grannies. He loved to play racquetball and won a few trophies. Mike Mooter said he didn't realize racquetball wasn't a physical contact sport until he played with someone other than Lou.
Lou happily spent the last 13 years of his working career with the Alaska Railroad as the Seward Dock and Real Estate Manager, overseeing daily operations of the Seward Terminal and cutting through bureaucracy with his no-nonsense leadership style. Lou's professional efforts once again furthered Seward's interest, and as part of the Dock Management team at the Alaska Railroad, Louie received a Spotlight Award in 2012 and a Golden Spike Award in 2015.
Louie valued family and friends, honesty, hard work, and contribution to community. He enjoyed gathering with friends for morning coffee and helping people. He will be missed by many, especially his wife.
Lou is survived by his wife Dianne, sister Annetta, children Patricia, Lois, Nina, Louie III, and grand and great-grandchildren. He was preceded in death by his father Louis, mother Julia, brothers James and Patrick.
A memorial service will be held in June 2023 in Seward. Announcement with details will be posted.
His sister, Annetta, will be traveling from the East Coast to place Lou next to their mother Julia at the American Legion Cemetery.