In Memory
Earl A. Eckel - Class Of 1955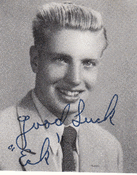 Earl Andrew Eckel Jr.
Monday, July 12th, 1937 - Tuesday, November 22nd, 2022
Obituary
Earl Andrew Eckel, Jr., 85 of Kihei, Maui passed away peacefully on November 22, 2022 surrounded byloved ones. He was born July 12, 1937.

He started his cabinet business in 1968 and continued to work for over 50 years. He loved spending time with his family. Family always came first. He also loved the ocean and watching sunsets. He loved jokingaround and he loved to laugh.

Earl is predeceased by his wife Jo-ann I. K. Kahoekapu and his daughters Melia, Jasmine and Pakalana Eckel. He is survived by his son Jason Eckel (Kanani), daughters Tiare Rosa (Ken), Fushia Pua-Momoa (Thomas), Gardenia Pascua (Tony), 16 Grandchildren and 8 Great Grandchildren.

Service will be held on Thursday, December 8, 2022 at Ballard Family Mortuary in Kahului, Maui. Viewing will be from 9am-11am.

We would like to thank Hospice Maui for their care and comfort for our dad. Truly blessed beyond measure.