In Memory
Elsie L. Stockwell (Bossert) - Class Of 1961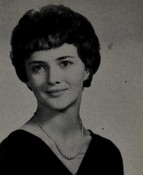 Elsie Bossert
July 8, 1943 - February 7, 2022 (78 years old)
Ocean City, New Jersey
Elsie Bossert Obituary
It is always difficult saying goodbye to someone we love and cherish. Family and friends must say goodbye to their beloved Elsie Bossert in Ocean City, New Jersey, who passed away at the age of 78, on February 7, 2022. You can send your sympathy in the guestbook provided and share it with the family.
She was predeceased by : her parents, John Stockwell and Mildred Stockwell (Barraclough); and her sister Wilma Weikel. She is survived by : her husband Robert H. Bossert; her children, Nancy Bossert, Robert J. Bossert (Karen) and Vickie Monaghan; her grandchildren, Jason Cooper, Nick Iannuzzi, Tony Iannuzzi, Jessica Monaghan and Robert C. Bossert; and her brother Johnny Stockwell. She is also survived by 6 great-grandchildren.
Memorial contributions in Elsie's name can be made to the American Lung Association, https://action.lung.org.