In Memory
Frank J. Gray - Class Of 1965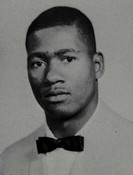 Frank James Gray Sr. (April 2 1945 - June 26, 2021)
Frank James Gray Sr. fondly known as Butch, was born on April 2nd, 1945 in Philadelphia PA. to Walter and Alice Gray, and had three siblings: Rebecca, Eleanora and Billy.
When Frank was 12 years old, his Mother passed away and he moved to Trevose, PA. where he lived with his Uncle Elwood and Aunt Melba Preston. He later relocated with his Aunt Eleanora and Uncle Robert Webb in the same community. It was there that he accepted the Lord Jesus Christ as his personal savior and was baptized at St. Matthew's United Methodist Church, where he joined the Junior and Senior Choirs.
Frank attended Bensalem High School and Bucks County Technical School and starred on the Track and Field and Wrestling teams. He graduated in 1965, acquired a commercial driver's license and began a career in truck driving. In 1965, Frank also married Lena (Nee) Donnell and sons were born from the union.
Frank worked hard all his life . Although he loved truck driving, his favorite job was as a security guard at the now defunct Willow Grove Amusement Park in Willow Grove Pa.
In the early 1970's, Frank relocated to Van Nuys, CA, where he continued his career driving long distance for C&M Transfer Company. Frank also supplemented his income working security in the city of Los Angeles.
Most recently, and until his retirement, Frank drove long distance for Bellway Moving and continued security in Pacoima, CA.
Frank is survived by his sons, Frank Jr (Debbie), Sheldon (Melanie) and Sean (Stephanie); nine grandchildren: Truan, Justin, Trevell, Terae, Sean Jr, Seth, Shane, Saige, and Tarly's along with a host of family and friends.