In Memory
Susan O. Livesay - Class Of 1970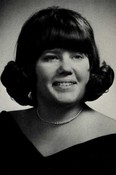 Susan Odell Livesay
November 13, 1952 - March 29, 2022
Susan Odell Livesay, 69, of Philadelphia, the daughter of Hugh K. and Margaret (Sanko) Livesay, passed away on Tuesday, March 29, 2022 at Mercy Fitzgerald Hospital following a long illness. Susan was born November 13, 1952, in Philadelphia. Susan graduated from Bensalem High School in 1970, and was retired from the US Postal Service. She loved to be around children, and leaves warm and happy memories among her nieces and nephews as well as many others. She also loved animals, especially rescue dogs, and was a longtime fan of Clay Aiken.
Susan was preceded in death by her parents and by her sister Karen Livesay Blank. She is survived by her sisters Mary Ellen Livesay and Nancy Livesay Resch (Peter), her brother Kyle Livesay (Neena), her nieces Alexandra Resch, Ingrid Manning (Jack) and Alyssa Blank, her nephews Stephen Senatore (Nicole) and Andrew Senatore (Natalie), and five great nieces and great nephews.
Donations in her memory can be made to charities that she supported throughout her life, especially St Jude's Children's Hospital and the ASPCA.