In Memory
Robert Longenbach - Class Of 1972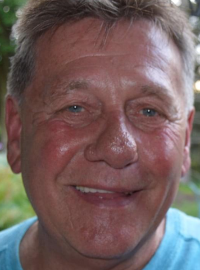 Robert P. Longenbach, of Bensalem, died suddenly on April 23, 2021. He was 67.
Born in Philadelphia, Robert was the loving son to the late Robert G. Longenbach and the late Pauline Naomi (Oplinger) Longenbach.
Robert worked in sales for over 40 years, spending the last 20 at 1st Class Auto Sales. He always lit up every room he walked into and lived to make others smile. Whenever you were in need Bob was there- no questions asked.
He enjoyed playing pool every Thursday with his APA teammates and reading any book he could get his hands on.
He loved being a grandfather and playing with his grandkids. He enjoyed taking them on new adventures in the outdoors and watching them explore.
Robert felt that becoming a father was one of his biggest accomplishments. His children always came first and he loved watching them grow and build their own families.
He always looked forward to taking his children and grandchildren to the SPCA every Sunday, this is where he found his best friend Moby.
Robert is survived by his children, Travis Longenbach of Upstate New York, Erica Longenbach of Ivyland, and Dillon Longenbach of Holland; by his half-siblings and siblings, Allen Buhon, Peter and Elaine Buhon, and Carolyn Schaller all of the Lehigh Valley, Shirley and Kurt Greisiger of Warrington, and Judy and Charles Schofield of Warminster; by his grandchildren, Peyton Longenbach, Owen Lafty, and Cooper Longenbach; and by many nieces and nephews. He is also survived by Colleen (Fidelibus) Longenbach.
Relatives and friends are invited to greet Robert's family on Friday, April 30, 2021 from 10:00am until 12:00pm, at the Joseph A. Fluehr III Funeral Home, 800 Newtown Richboro Road in Richboro, PA 18954. Interment will take place privately.
In lieu of flowers, contributions in his memory to Bucks County ASPCA at PO Box 277 in Lahaska, PA 18931, would be appreciated.