In Memory
Laird A. Kantruss - Class Of 1973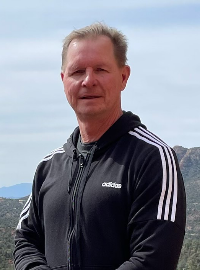 Laird A. Kantruss, 67, of Richboro, passed away March 31, 2023. He was the beloved husband of Donna
(Gosik) Kantruss.
Born June 30, 1955 in Philadelphia, he was a son of the late Keistutis and Shirley (Hetrick) Kantruss.
Laird was a dedicated husband, father, Poppop, and brother. He was always the "smartest guy in the
room," and spent his professional career as an aerospace engineer (rocket scientist) building satellites.
Laird was a natural born leader and left these four rules that he fully embraced: 1- When you get up in
the morning, make your bed. You will have accomplished the first task of the day, it will give you a small
sense of pride and encourage you to do another task. 2- Say good morning. Saying good morning is part
of the mystery of the day, a fresh start, and a promise of good things to come. saying good morning is
hope. 3- Laugh. The benefits of laughter will boost your immune system and make you healthier. 4- Be
grateful. When you are consciously aware of your blessings, and are grateful for them you are attracting
more of those things into your life.
Laird was always everyone's biggest cheerleader seeing the strengths in all. All those he came in contact
with knew how special he was.
Along with his wife, Donna, Laird is survived by two daughters, Lauren Perpetua (Joe) and Ashley Butler
(Justin); five grandchildren, Aiden, Rylan, Austin, Tyler, and Riley; two brothers, Craig Kantruss and Scott
Kantruss; son-in-law, Greg Swindells; three brothers-in-law, Mark Gosik, Jay Gosik, and David Heath;
four sisters-in-law, Renee Gosik, Debbie Heath, Donna Gosik, and Karen Gosik; mother-in-law, Marie
Gosik; and many nieces and nephews. Laird was preceded in death by his daughter, Amber Swindells.
Relatives and friends are invited to greet the family Tuesday, April 11, 2023 from 10:00 am until the funeral mass at 12:00 pm at St. Bede the Venerable Church, 1071 Holland Road, Holland. Interment will be held privately.
In lieu of flowers, contributions in Laird's name can be made to the APS Foundation of America https://apsfa.org/donate/.