In Memory
Robert W. Bob Steiner - Class Of 1973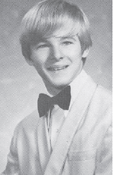 Robert William Steiner
January 29, 1955
Obituary
Robert (Bob) William Steiner, 68 of Conway South Carolina (originally from Bensalem Pennsylvania), went home to our Lord on Saturday, July 22, 2023.
Born January 29, 1955, in Philadelphia PA, he was the son of the late Mabel Woelk and the late James Steiner and brother to the late James Steiner Jr.
Bob grew up in Bensalem PA and graduated from Bensalem Senior High School in 1973. He briefly worked at Nabisco but later started his own remodeling and home repair business and did that until his retirement. His favorite past time was roller skating and he even competed around the country and won several awards alongside his partners. He was also a roller coaster fanatic and enjoyed frequenting Six Flags across the country to try out their different coasters with his daughter and friends.
Bob is survived by his daughter Aubrey Richard of Myrtle Beach SC and granddaughters Julie and Emily, and his sisters Diane Lutes of St Petersburg FL, Carol Medycki (John) of Brooksville FL, Mabel (Redsy) Woelk of Bensalem PA, Joyce Quirion (Bill) of Oakland OR, Karen Geiter of Berlin NJ, and Christine Tozar (Robert) of Sicklerville NJ. Bob was the cherished uncle of many nieces and nephews and loved by many cousins. He will be missed by friends near and far.
There will be a Celebration of Life that will be determined at a later date.
Mr. Steiner is entrusted to the care of Kelvin F. Lewis, Funeral Director, and Lewis Crematory & Funeral Services of Myrtle Beach, SC. (843) 294-0011.