In Memory
Althea T. Taylor - Class Of 1974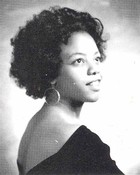 Althea Teresa Taylor
JANUARY 10, 1957 – AUGUST 21, 2023
Althea Teresa Taylor, age 66, passed away on 8/21/2023 in Philadelphia, PA.
She was a long-time resident of Trevose, PA. Althea was born on January 10, 1957 in Philadelphia, PA, to parents, Grover Lee Taylor and Eunice Daisy Taylor. She graduated from Bensalem High School in 1974. Althea went on to establish a career as a Customs Officer, working for the U.S. Customs and Border Protection for over 36 years.
Althea always talked about wanting to help people even in retirement. She was a dedicated donor to charitable organizations such as Philabundance, Habitat for Humanity, NAACP and the African-American History Museum. Althea was an avid reader, a music lover and a die-hard Philadelphia Eagles and Sixers fan. She also loved going to the Penn Relays; in fact, she once ran in the Penn Relays representing Bensalem High School. Althea loved flowers and made the annual trip to the Philadelphia Flower Show.
Althea was preceded in death by her mother, Eunice Daisy Taylor and her father, Grover Lee Taylor.
Althea is survived by her daughter, Tahirah Taylor, her sister, Maureen E. Taylor, her brother, Grover Taylor and his wife, Barbara, and her cousin, Theodore Sharp.
A visitation and memorial service is scheduled for Friday, September 15, 2023, at Lamb Funeral Home, 101 Byberry Road, Huntingdon Valley, PA 19006, followed by a repast at Black Lake Room, 2706 Black Lake Place, Philadelphia, PA. She will be interred at Sunset Memorial Park in Huntingdon Valley, PA, at a later date.
Memorial contributions may be made to the Huntington's Disease Society of America (HDSA), 505 Eighth Avenue, Suite 902, New York, NY 10018 or www.hdsa.org.