In Memory
Robert Jacoby - Class Of 1991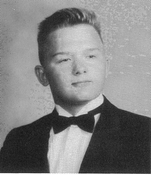 Robert "Rob" Jacoby
September 17, 1973 ~ September 27, 2022
Born in: Bensalem, PA
Resided in: Black Mountain, NC
To the dear loved ones, friends, colleagues, healers, guides, fellow mischief-makers, jokesters, musicians, artists, nurturers and nurtured people who knew Robert Peter Jacoby,
First we want to acknowledge the various communities of people who knew and loved Rob. We sincerely apologize for any suddenness in hearing the news of Rob's passing through social media outlets as we all became aware of his departure. Thank you as well for your patience and grace as his family grieves until we could get to this announcement. We want everyone who is able to be included for the gathering and know there are people far and wide who have been touched by his power and love.
The ceremony will take place at a horse farm that Rob enjoyed offering horsemanship healing and nature therapy to his clients. It is a place that has special meaning to him. We would love to invite his vast tribe to this space for a ceremony and afternoon of connection done "Rob style" i.e. drumming, fire, potluck, DJ beats, and nature time.
When: Sunday October 9th @3:00pm (beginning of ceremony)
Where: 60 Rector Rd. (PLEASE carpool from public Weaverville locations nearby)
What to bring: picnic blanket or chair, yard games, music instruments, family-friendly festival gear, a fire offering (should you choose)
**If staying beyond the official ceremony, consider bringing one potluck dish to pass per car.
If you are unable to attend please consider a donation to Rob's Memorial Fund at GoFundMe link.
From Danielle Jacoby:
Words truly cannot convey the pain of losing my husband. A man that inspired me, loved and cared for me and his daughter more than anything in the world. And also, impacted and healed sooooo many peoples lives. I want to share that I am comforted and strengthened by all of the love and support that everyone has shared and spread as a representation of the love Rob gave and received in this lifetime.
Please continue to celebrate Rob's legacy through story telling, music, dance and remembering that life is about those you love and have fun with.