In Memory
Peter M. Demeester - Class Of 1993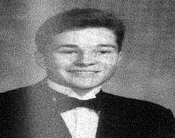 Peter M. Demeester
February 8, 1975 - September 5, 2022
Peter (Pete) M. DeMeester passed away on Monday, September 5, 2022, at the age of 47. Born in Bensalem, Pete most recently was a resident of Chalfont, PA. Pete was an avid runner, movie lover (especially B-rated horror movies) and found the most peace being outdoors. Pete touched countless lives, always a support to those around him when needed. Pete was passionate about and took great pride in his career working in the field of Children's Mental Health. He was a regular visitor at Peace Valley Park and loved day trips to Brigantine.
First and foremost, Pete was a devoted father to Madison DeMeester, and survived by his partner Charlene Artillio.
Also survived by his parents, Peter, and Mona (nee Wenri) DeMeester, his sisters Tiffany and Lisa DeMeester, and niece Chloe Martin.
Family and close friends are invited to celebrate Pete's life on September 24, 2022, at 4pm. Services and ceremony will be held at John F. Givnish Life Celebration of Buckingham 4886 York Rd. Buckingham Pa. 18912
All others may join a larger celebration at Peace Valley Park on September 24, 2022, from 12pm-2pm at Pavilion #4.
In memory of Pete and in lieu of flowers, donations will be accepted for Madison DeMeester. Checks may be made payable to "Madison DeMeester" and mailed to:
Charlene Artillio
PO Box 373
Chalfont, PA 18914