In Memory
Heather Ody Snyder Administration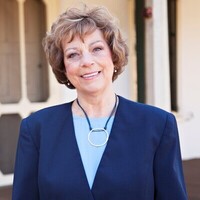 Heather L. Snyder
April 5, 1948 - October 18, 2022
"When it gets hard, just do the next thing. One thing at a time."
Heather L. Ody Snyder - lifelong educator, grandmother, mother, wife, and friend - died in the early morning hours of Tuesday, October 18, 2022, at home with her family and cats by her side.
Heather was preceded in death by her mother and father - the fabulous Phillipa Dangremond and steadfast Robert V. Dangremond, as well as her first husband, legendary Arnold D. Ody. She is survived by her second love, forever and for always, husband Lamar J. Snyder; and her children and grandchildren who idolized her and who she inspired with her generous spirit each and every day - daughter Jessica Ody, son James Snyder (Janet), son Craig Snyder (Nicole), granddaughter Christina Snyder (Eddie), granddaughter Joelle Hurst (Andrew), granddaughter Ellyana Snyder, granddaughter Sadie Elliott, great grandson Cameron Snyder Vasiliou, great grandson Grayson Hurst, great granddaughter Charlee Valentine, and great grandson Rory Hurst. She is also survived by her older brother Robert K. Dangremond (Glenda), nieces Tamara and Erin, nephews Jeff, Jared, and Jackson, and predeceased by nephew Bobby J.
Leaving her small town of Hobart, Indiana behind, Heather obtained degrees from Cincinnati Christian Seminary, the University of Cincinnati, and Xavier University and began her career as an elementary, gifted, and reading teacher in the towns of Newport, Kentucky and Reading, Ohio. She moved to Bucks County in 1980 after applying for an opening as a gifted education teacher in Bensalem. She remembered the beauty of Bucks County, Pennsylvania from a childhood vacation taken with her mother and father where they visited the Pearl S. Buck House. She thought Pennsylvania could be her home and she not only found a place she loved in Bensalem, but people she loved as well.
Continuing her own education, Heather obtained her Elementary and Secondary Principal Certifications from the University of Pennsylvania and ultimately, her Superintendent's Letter of Eligibility from Immaculata College. She left the classroom in 1990 to embark on a new adventure in administration as the Assistant Principal of Armstrong Middle School. From there she moved into building principal positions first at Rush Elementary, then at Shafer Middle, and finally at Struble Elementary. Upon her retirement from Bensalem School District in 2006 and with 35 years of service in education already, Heather began working with the PA Department of Education and PACTA, where she managed a group of Distinguished School Leaders in the Career and Technical Education fields, as well as organized and presented professional development opportunities for those with whom she worked.
To know and learn from her was to feel her generosity, kind spirit, and empowerment. She was your biggest cheerleader and ultimate fan. From the students she taught in the middle school classroom; to the students and staff she led as a principal; to the relationships she kindled with professional educators across the state of Pennsylvania; and all those she met in between, Heather's light radiated beyond her and into those she served.
Her lessons transcended the walls of her classrooms and schools, and some, will transcend even the confines of her life on this earth. To honor her, we hold these lessons dear to our hearts.
Always say yes to an adventure.
Give often and with abundance, in whatever way you can.
Be in awe of the trees - the glory with which they stand is humbling.
When new products come out, buy them. What's the harm in trying new things?
Go overboard and be fabulous. There is no fun in the mundane.
Take care of the animals. This is their place, too.
If you bring your own beverage, you will always have what you like to drink.
Write for yourself and for those you love. Your words remain long after you're gone.
And make a difference. Every day. For serving others is the greatest gift of all.

Relatives and friends and invited to attend her viewing on Thursday, November 10, 2022, from 4:00 PM to 7:00 PM and again on Friday, November 11, 2022, from 9:00 AM - 11:00 AM at the Fluehr Funeral Home, 864 Bristol Pike (Rt. 13), Bensalem PA 19020. Funeral Service is at 11:00 AM. Interment will be private.
In lieu of flowers contributions in Heather's memory may be made to the Bensalem Education Foundation for the continued addition of diverse titles in Bensalem school libraries, 3000 Donallen Drive, Bensalem PA 19020